Support "Dancing with Dragons in Disco Socks Online Course and Workbook" Project
I'm excited to share that I've received the KIVA, a community-funded loan, that will help me continue the development of my latest project, Dancing with Dragons in Disco Socks (And Other Fabulous Ways to Slay the Monsters Beneath Your Bed) Workbook and Online Course. It has been inspired by nemoir, recently released, called "Dragons & Disco Socks". This funding program connects local entrepreneurs with 0% interest/0 fee loans that are funded by the community.
The self-help course is filled with personal vignettes, journaling prompts, practical and actionable tools, and skill-building activities designed to help readers take their own journey from a triggered, drama-driven life to living from a centered place of safety. Its 11 chapters will include about 65,000 words, with activities, checklists, quizzes, and journaling prompts working together to create a travelers' guide-style self-help book.
What is the purpose of this loan?
Realizing our COVID-19 world has dramatically changed the way we interact, we are now expanding how we offer our services. This loan will help us launch our first fully asynchronous online "Journeyer's" quest. This 7-phase adventure will equip and empower countless people who struggle to find experts in resilience and post-traumatic growth regardless of where or when they can access these powerful resources. Part I of Dancing with Dragons in Disco Socks comes with a Journeyer's Log and an online, step-by-step guide through the first 3 phases of your own Journey to a Trauma-Informed Life.
Whether you have a young child who is hurting, are an LGBTQ+ youth hiding in the closet in an unsupportive home, an adult struggling to find some way to unload all their baggage, or a family who's been through a traumatic transition, this online adventure guide can help you rise from the ashes of your past and take flight into a better future.
About Kiva: Kiva allows small business owners to create a personal impact in their communities and across the world. Kiva creates access to capital for U.S. small businesses and works best when many stakeholders come together such as: city governments, banks, community organizations, local philanthropists, and people in the community. Kiva is a 501(c)3 U.S. nonprofit fueled by passionate people. Since its beginning, Kiva has grown to enable over 1.8M lenders worldwide to lend a combined $1.4B in 77 countries around the world.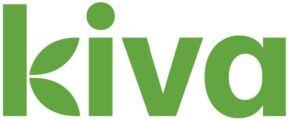 Kiva is a loan, not a donation
In order to kickstart Kiva, I'm looking for 25 private investors to kickstart my campaign. It can be as little as $25. The private donation time frame is May 25 until June 8. Please let me know if you would like to support this project, and on May 25 I'll email you the link so that you can make your secure donation.