NGLCC Recognizes Journey as an LGBT Owned Business
Journey to a Trauma Informed Life is proud to be recognized as an LGBT Business Enterprise by the NGLCC. This makes Journey the second business in Erie, PA to receive this recognition. The National Gay & Lesbian Chamber of Commerce (NGLCC) brings visibility to the City of Erie and accountability to its members. The NGLCC is the exclusive certifying body of LGBT owned business enterprises.
Accountability Strengthens Integrity for LGBT Owned Businesses
Not only does this national recognition as an LGBT owned business highlight the diversity present in Erie, it strengthens Journey's integrity as a business committed to Diversity, Equity and Inclusion. The arduous application process began in January 2021 while Journey's owner was enrolled in Paramount Pursuits' Thrive in Erie program. Paramount Pursuits is a small business incubator and economic development consulting partner, concentrating on empowering entrepreneurs. The City of Erie partnered with Paramount Pursuits in 2020 to help upcoming entrepreneurs grow into their full potential.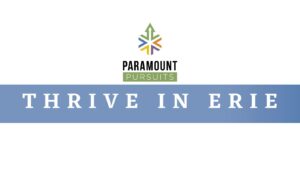 Commitment to Cultural Humility and Competent Mental Health Care
People who seek our mental health counseling, consulting and training should see their lived experiences reflected in our staff. Journey has been purposeful about building a team that embodies the wonderful diversity in the communities we serve. We are thankful for people like Trish Digliodo from Paramount Pursuits and Jennifer Hoffman from Erie's Business Development Office who empower small businesses. Because of them and many others, Journey remains committed to bringing trauma informed mental health care to Erie. We are proud to be in Erie and committed to invest in our neighborhoods. We look forward to sharing more exciting news with you in the near future! Make sure to subscribe to our newsletter to keep in touch.