Thank you to all who have followed me along my Journey to a Trauma-Informed Life so far. As I've hinted, I have been in process of writing a memoir regarding how this journey began. This morning, I am happy to announce another step forward in the process. But before I get to the big news, I wanted to share a bit about how I've come to this point.
In October 1970… Okay, maybe not THAT far back… In August 2015, I had stopped by a coffee shop to process a rather revealing counseling session I had just finished. I had been working with Penny, a wonderful therapist in the Erie area on my inability to set appropriate boundaries. She had helped me identify two extremes I vacillated between. As the session progressed, I realized this pattern was pervasive throughout almost every area of my life. I also noticed my relationships tended toward one extreme or the other, and how my childhood caregivers modeled this all-or-nothing behavior as well.
As I mulled this over, I took out my journal and drew a double line down the middle of the page. My life felt like a walk across a narrow path with a cliff on either side. I began jotting down names, characteristics, and behaviors on either side, representing how I felt if I started to fall off the edge of the path on that side. I craved balance, but I realized I had no room for it in my drawing — there was a narrow space between being frantic and overwhelmed and complete shut-down completely.
But why wasn't there more space between the two? What if I decided my path was wider than I had drawn it? So, I started over on a new page. About an hour later, I had what I thought to be a good depiction of what I wanted my life to look like.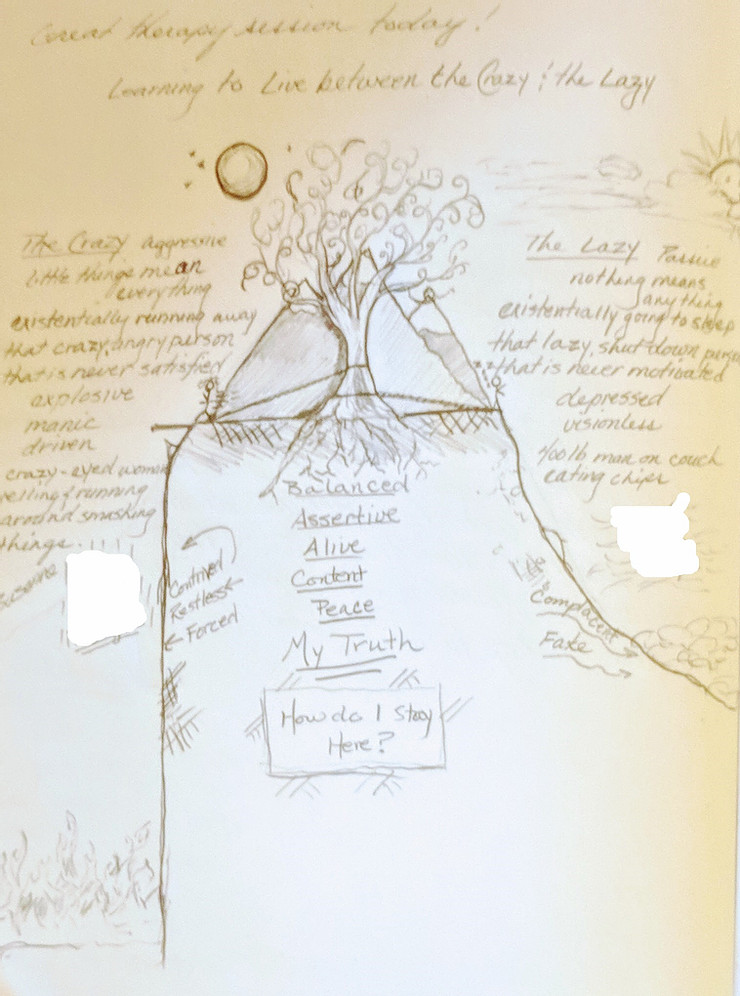 Flash forward to April 2017. The idea of life balance was still evading me, and yet, I had not let it go. I had toyed around with the idea of writing about how I was learning to widen my life-path so others, who didn't have access to quality mental health counseling, could widen their own path. Finally, I got up early one morning and stared at a blank computer screen. Now, how do I get these thoughts from my head on to this page? So, I wrote:
4/9/17 6:50 am. So, I'm super excited to be finally putting words down on this manuscript. It is my first book… well, that's not really true, I've started a couple of other books, and they are still sitting in a file somewhere in my office, probably never to move beyond the first few pages. The reason, I think, is because this is the first story that needs to come out. I have very little idea of what I'm doing, and like many aspiring authors, I think my ideas are just going to write themselves into a national bestseller. I'm sure I have no idea what lies ahead, but here I am.
When I started writing it I thought it was going to be a self-help book. So, six months later, when I had an opportunity to drive Joe Kort, author of 10 Smart Things Gay Men Can Do to Improve Their Lives, to the airport, I gathered enough courage to blurt out that I was writing a book. I asked him to share how he found a publisher and if he had any suggestions. He was happy to share his experience as well as provide me with a contact at the publishing house he was working with on his new book – LGBT Clients in Therapy; Clinical Issues and Treatment Strategies. I drove home from the airport, excited to forward my book proposal to his contact.
When an email came back from them less than 48 hours later, I naively wondered if I should buy a new wardrobe for all the interviews I was going to be doing. Maybe I should order Sharpies by the case for all the book signings in my future, I thought. Instead, the email simply said;
"Thank you for thinking of us as a publisher, but, unfortunately, your manuscript does not fit with our list. While important, in its current form, your manuscript reads more like a memoir than a [self-help] book. Best of luck, K."
After pouting for a week or so, I composed myself and approached another published author I was acquainted with. This man agreed to review a couple of chapters and my outline. When we met for coffee a week later, his advice both encouraged and devastated me.
"You've definitely got a powerful story here. For sure it's going to be better as a memoir rather than self-help. Now, you're not going to like what I have to say next. What I suggest you do with this manuscript is print it out and put it on a shelf where you'll always have it. Then, start writing your book from scratch."
I stared at him unbelievingly. I pouted again for another week. Then I did what he said. Flash forward again to December 2018. I had a new manuscript written. I had revised it 3 times. This time, I decided I was going to try to secure an agent to represent me in the quest to find a publisher. I started sending out query letters by the dozen. Waiting. Nothing. More letters. Waiting. An occasional cookie-cutter rejection email. More letters. More Waiting. More Nothing.
In March, signed up for an online non-fiction writers' conference to be held in early May 2019. I sent my manuscript to 3 beta readers, paying them to give me quality feedback before the conference. I began creating my platform – something all the pros said was necessary to attract an audience. I launched my "Journey to a Trauma-Informed Life" website with a weekly "Monsters Beneath My Bed" blog in April.
Although my blog was gathering some faithful followers (again a huge THANK YOU to you all who have stuck with me!) it wasn't until last month, when I decided to publish a series of posts about how I came out, where I began to reach beyond my circle of friends, acquaintances, and colleagues. And this, my faithful friends, is where I finally get to the point of this first blog post in July.
Two weeks ago, I signed on with Cleveland Edits Literary Group to represent my memoir to the publishing world.
I am ecstatic!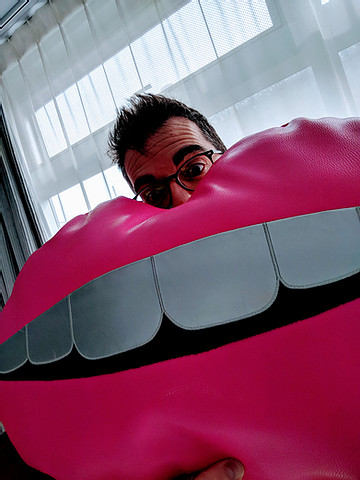 Since signing on with CELG, Lisa has been attentive and helpful, giving me hope and restoring my confidence in my memoir project moving forward.
Over the next month I will be working diligently to whip my proposal into shape so Lisa can approach publishers in August. I know I will be needing your support in spreading the word as I move forward, so please stay tuned and let me know if you're interested in helping!
Thank you to each and every one of you who has been supportive of me and shown interest in helping me help others find their own way to a Trauma-Informed Life.
– Will