An open (and honest) letter regarding Tyler Titus,
My name is William J. Koehler, a proud small business owner, seasoned educator, and active advocate and ally in the greater Erie, PA region. I have worked with Tyler Titus, DSW, LPC in each of these roles over the past 11 years. I'm writing about my experiences to show a side of this candidate for Erie County Executive which few have had opportunity to see.
Tyler and I have worked together for 11 years
I joined Tyler Titus and one of our colleagues to form Journey to a Trauma Informed Life, LLC in July 2019. In August 2020, I assumed complete ownership of our practice. However, both previous owners stayed on as clinicians. My relationship with Tyler extends farther back. Since 2015, I have worked alongside Tyler as a community educator. We provide seminars on trauma-informed teaching environments, training on how to intervene as a bystander to bullying, and consulting to build safe environments for vulnerable youth. Even earlier, from 2010-2017, I served alongside Tyler on a nonprofit board of directors. We worked on a team which provides education, service, and social engagement opportunities to amplify unheard voices.
Qualities of Leadership seen in Tyler Titus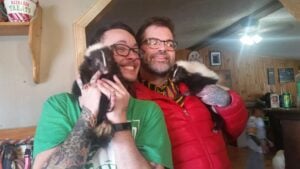 As I look back on my experiences with Tyler, I notice several patterns which speak to their ability to effectively serve as our next Erie County Executive:
Awareness of strengths and needs – as I have worked with Tyler as both co-owner and employer, I know they acknowledge areas of both strength and need.
Ability to collaborate – When we have disagreements, Tyler always returns to the issues and seeks amicable resolution.
Willingness to ask for help – Tyler builds teams who bring skills in areas where they are not strong.
Open to growing – Tyler's surrounds themselves with people who challenge them.
Commitment to transparency – As a co-educator, I know Tyler is open about their lived experience.
Dedication to equity – As a fellow board member, I know Tyler is always working to create equity and confront systemic issues.
I support Tyler Titus as our next Erie County Executive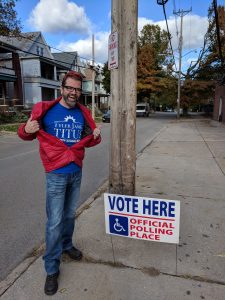 In short, I have interacted closely with Tyler for the past 11 years. We have supported each other through many difficulties, had strong disagreements, and celebrated some of life's greatest joys. As someone who knows Tyler as a fallible yet compassionate, and dedicated individual, I am in full support of Tyler Titus as our next County Executive. I am confident they will choose a team of advisors who are as deeply committed to the fiscal and structural foundations of our diverse county as they are. I encourage you to vote for them this Tuesday.
Sincerely,
William J. Koehler, PhD, LCSW
Owner, Journey to a Trauma Informed Life, LLC