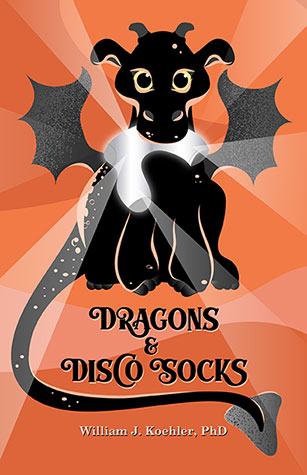 Do you, like me, tend to hold onto the past, no matter how hard you try to let it go?
Everyone has skeletons in their closet that occasionally rattle or claw their way into everyday life. This is simply part of being human. However, some feel like their past trauma will haunt them for the rest of their life. If this is you, I am here to bring you on a journey of hope and healing.
Healing from your past
Dragons & Disco Socks  is a quest to rescue an abandoned inner child from the clutches of his nemesis. Through EMDR (Eye Movement Desensitization Reprocessing), this LGBTQ author discovers how to stop reliving his past. He resurrects his imaginary childhood friends who help him navigate through distorted memories and set his younger self free.
If you are stuck in a cycle of repeating past mistakes or toxic relationships this tale will inspire you. I invite you to pick up this book, experience my adventure, and shine a beam of hope into the dark corners of your own past. Who knows what long-exiled parts of you will find light and healing along the way?
Interview with Classy 100's Brenda Savelli
Are you ready to find healing from your past?
About the Author
William J. Koehler, PhD, LCSW
is the owner of Journey to a Trauma Informed Life, LLC, and Assistant Professor of Social Work at Edinboro University of Pennsylvania. He began serving as a trauma-informed clinician in 2005 and has since become a respected trainer, instructor and consultant in his field. His specialty areas are working with the LGBTQ+ community and helping children and adults exposed to childhood violence and abuse.
---
Book Reviews
"Y'all, here's the real tea: I binged it so hard I literally was reading it in the shower. What's it about? Well, have you ever wondered what it might be like to sit in someone else's therapy session? And more than that, to climb inside their mind? This fantastic nonfiction book gives you an inside seat. If you are interested in psychology, EMDR, trauma, dissociative disorders, or just a really great narrative, you should check this out." ~ Martine
"OMG! I just finished your book! LOVE LOVE LOVE it! This book has definitely made me consider some events in my life and how I have also repeated mistakes – and perhaps how those are intertwined. Thank you so much for sharing your story I know it's going to help many others on a journey to healing and happier lives." ~ Anonymous
"'Like so many times before, her existence was what anchored me to the real world…' I feel this so deeply that I had to stop reading. I can't even process my own emotions with this line. It speaks so much truth.!" ~ JoAnna

Others who found healing from their past…
"Brave. Extremely brave! I believe that your honesty will help others find peace with their own pain." ~ Anonymous
"Just started reading the book a few hours ago. Lost track of time while reading. Very powerful, feeling a mix of emotions, elicited by your effective use of details. Feeling compassion, not just my own but also the compassion that the author is expressing for all of the 'characters' in this memoir. I admire the courage and time and energy it took to write this. It is going to help so many people. It already is. Thank you for sharing this." ~ Anonymous
"In some ways this memoir reads like a thriller: I wanted to keep turning pages to find out what happens next. In other ways, the memoir recreated for me the experience of trauma therapy: I had to titrate my exposure to some of the painful memories to give myself time to process the thoughts and emotions evoked by the hero's story as well as some of my own traumatic memories that resurfaced as I read. If you're wondering what Eye Movement Desensitization Reprocessing (EMDR) is like, if you could use a refresher on self-compassion, or if you are simply looking for a compelling story with interesting characters, this is a great read." ~ Janice

Even more reviews…
"I laughed. I cried. But most importantly I learned. By traveling along during someone else's journey through a past with skeletons, monsters, and pent-up emotions, I was able to see how I have my own past to face if I want to free myself from really distorted memories that haunt me." ~ Anonymous
"I started reading this book and didn't want to put it down! But I found I had to only read a few chapters at a time and then process what I was reading before continuing on to more chapters because it was stirring up parts of my own trauma history that I hadn't realized still needed to be dealt with." ~ Anonymous
"I was so blown away by the power and palpability of this story, that I read it in one sitting, fully immersed in this gripping account of facing the demons and your past in order to move forward. I think anyone can relate to various aspects of this story of perseverance, strength, and bravery in the face of adversity. A journey through life's traumas, to build your armor and live a life of bravery and authenticity. This book is a gift to those trying to find a path through a trauma-informed life. Now more than ever it's time to amplify LGBTQIA experiences, have our stories heard, so we can see it's possible to find a way through the other side through, and it's possible to slay your monsters and begin to fully live your journey of life. To have the opportunity to live through someone else! To feel the pain, the sorrow, and mainly the answers to a life that one can so easily hideaway. We've all been there. I finished the book wondering if there is still something I need to find within myself to allow me to be happier." ~ Eric